UK COVID-19 Update: CVT Risk
Peter Russell
April 15, 2021
These are the UK coronavirus stories you need to know about today.
CVT Risk from COVID and Vaccines
The risk of developing cerebral venous thrombosis (CVT) from COVID-19 was "many-fold" higher than from receiving the AstraZeneca/Oxford or Pfizer/BioNTech vaccines, researchers have concluded.
A preprint study by the University of Oxford found that from a dataset of over 500,000 COVID patients, CVT occurred in 39 in a million people.
CVT has been reported to occur in about 5 in a million people after a first dose of the AstraZeneca/Oxford vaccine. In over 480,000 people receiving either the Pfizer/BioNTech or Moderna mRNA vaccines, CVT occurred in 4 in a million.
The researchers said that compared to the mRNA vaccines, the risk of CVT from COVID-19 was about 10 times greater.
Compared to the Oxford vaccine, the risk of CVT from COVID-19 was about 8 times greater.
A similar pattern was seen in portal vein thrombosis (PVT) which occurred in 436.4 per million people who had COVID. That compared to 44.9 per million for the mRNA vaccine group, and 1.6 per million for those receiving the Oxford vaccine.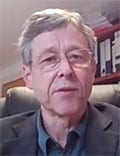 Prof Paul Harrison/SMC
Study author Paul Harrison, professor of psychiatry at the University of Oxford, said that "all the evidence we have is that the risks of COVID are so much greater than whatever the risks of the vaccine might be compared to background".